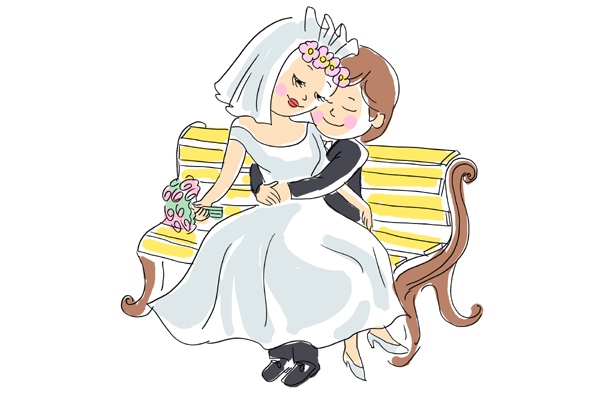 Till a mzungu do us part
Faith and I go way back.
We met in campus, and though my HELB loan wasn't sufficient to finance her socialite tendencies, we nonetheless remained mutual friends. Of course, occasionally we would share the loot she squeezed from a married idiot who lusted after her loins. I mean, isn't that what best friends are for?
Unfortunately, I lost touch with Faith three years after we graduated. I haven't seen or heard from her ever since. Well, until last week.
I ceased to matter to her after she landed her hands on a certain old odiero (white man). Rumor has it that he is the kind who needs a jab every morning to remind his heart to beat. So, apparently after her heart was smitten by the odiero's charm and dollars, she went into hibernation and blocked all her friends from her new glorious life. I guess its human nature, we tend to push people away as we climb up the food chain.
For the lucky ones fortunate enough to still have her as a friend on social media, they would be treated to occasional quotes of Swami Sivananda, a Monk from Tibet. Naturally, I am always suspicious of peeps who endlessly post quotes on social media.
According to Prof. Kimani, our Psychology lecturer back in campus, troubled souls seeking either attention, validation or consolation have a habit of going philosophical on everything. But then again, who would trust a fellow who found it humanly impossible to pronounce the word: flabbergasted.
No one I know of, including her immediate family attended Faith's wedding. Sijui it was held at the Attorney Generals' chamber then they checked across the street into Inter Con Hotel, and wallah! the next day she slapped her Facebook status with: Married to Knud Zelig Biefeleld. Kidogo kidogo her name also dramatically changed to Mrs. Faith Biefeleld, and so did her accent and attitude, I assume.
And just before the ink dried on their marriage certificate, the odiero shipped her cute Nyandarua ass to Krakow, some small village in Eastern Germany, and Mwathani Agosho! that's how Kenya lost one of its professional gossipers.
Its amazing how we see odieros walk in the streets of Africa with a colonial attitude, and torn jeans complimented by those colourful Bata plastic sandals, and we think they are the shit. In fact, we are too quick to come to their rescue with justifications such as:
Si, you know this odieros are down to earth people. They love a simple life. Wrong. Ok, some do. Majority have no choice. Majority are broke-ass just like my uncle, Saimoni (read Simon in lunje) Theophilus Shimuchira Makwakwa back in the village.
What always cracks me is seeing an odiero tucked in neatly ironed fake Brioni suit, while sweating like a desert pig due to the African heat. I always wonder for the love of Jehovah Wanyonyi, did he have to wear that suit in this blistering armageddonian African Sun!
Of course, that notwithstanding, its incredible how some of our sisters would literally fall horizontally on their back at the sight of a white man. You will be forgiven to conclude that their existence primarily revolves around getting their hands on an odiero. 
Interestingly though is the fact that the odieros have curiously become of age. They have become more wiser and cunningly too in their dealings with our sisters.
Some have learned to have multiple side-chics. Others are openly arrogant and abusive, perhaps coz they know some sisters are desperate to kiss white skin. Still others have mastered the game of play the super romantic white boy, marry you in some invite only wedding held at the very edge of the Indian Ocean. You know those invite only weddings attended by like 11 people, with 7 of them being the catering chaps.
Disclaimer: If a man ever marries you and doesn't want, or isn't bothered if your family (read your folks, guka, cucu, Wafula your watchman, Musyoka your gardener and Njoro your butcher) attends your wedding or not – girlfriend, run for the hills. That son of Adam is a serial killer.
In Africa, weddings are everyone's affair. A public affair. A time of celebration. And it doesn't matter whether half of the people in your wedding are strangers to you. And if you are from the bloodline of luhya-dom, never ever do a wedding, whether in shithole Africa or some snow-infested country without inviting the isukuti chaps. As far as our ancestors are concerned its a serious abomination (read with Canadian accent).
Okay, so, you do this weird invite only wedding, and then before you even whisper akisema atakubariki, hakuna atakayezuia, the odiero hastily exports your ass to Europe. It then takes you 11 years to adjust living on his father's farm in rural Krakow. It takes you another 22 years to adjust to the crazy weather and another 33 years to adjust to his superior mzungu  attitude.
Well, that's precisely why I always tell our sisters to interrogate these odieros you meet during Mulembe Night and Koroga Festival before you open your heart. Know as much as you need to know about the dude: His real age. What he does for a living. Why is he in Africa besides the I'm on Safari narrative.
Ooh! one more thing, ask him whether he's a divorcee or has some little rascals spread all over Africa or in Europe. I mean, you don't want to be landing in some village in Eastern Germany as Mrs. Faith Biefeleld and realize the chap still lives in his teenage crib tucked away in his father's extensive pig farm.
Go undercover on the chap. Does he love Jesus? Does he own a Bible. What is his take on Samantha, the sexy doll. Is he gay. Has he done any buttocks on his body. Ask again, is he a man or woman. Trust me, you don't want surprises once the Mr. Cool Romantic Guy veil comes off.
Ok, back to Mrs. Faith Biefeleld. So, the other day, she writes me this long email. I almost confused it to a Will or a manuscript for a novel. Long storo short, the email had so many shida's I found myself reciting the Lord's Prayer for her.
Apparently, after she married the egoistic Mr. Biefeleld and relocated to Krakow village, the dude became violent, alcoholic and a serial cheater. So, being that tough Nyandarua damsel who was born, in her own words, right at the edge of the Thomson Falls, she separated from him and has been working in an elderly home ever since.
She now wants to come back home. Problem though: she cut off contacts with her family and friends, and therefore has no idea how to start her life. So, she was wondering if I could saidia her get a joboo, any joboo. I am yet to reply to her. Let's just say that I am still searching for diplomatic adjectives and adverbs to use in my response.
Disclaimer though: Let me go on record stating this: First, I, Douglas Waudo, the son of Mr. and Mrs. Eliud Waudo, and a great descendant of His Worship, Your Majesty, The Great Nabongo Mumia, have no brobdingnagian issue with odieros, or by extension our damsels falling for the white skin.
Secondly, I have watched The Game of Thrones Season 4, and therefore I know we have so many good odieros out there. Great guys. Thoughtful. Romantic. Mature. Financial stable. God-fearing, and lovers of torn jeans and smelly T-shirts.
Having said that, my advice nonetheless to our sisters is, honey, be super cautious. Don't easily get trapped by any white boy masquerading in the streets of Africa as a tourist, expatriate or venture investor. Don't be easily impressed by his charm, sexy eyes and Game of Thrones accent.
Girlfriend, take your good time to know the chap first before he puts a ring on it. Get to know his sexual preferences: Is he into them weird sex toys? Does he like his sex served through the back door? Is he sure he's a man and will remain one? I mean, you don't want the brother sneaking up on you years later with a surprise of call me Caitlyn, you know like that Kardashian chap.
Also get to know his family history: Is his old man hooked up on some machines to help him pee, breath and talk? Does his clan have a history of crazy diseases? Does he believe in God? As in the God of Abraham, Isaac and Jacob? Take it further: Does he believe Jesus Christ of Nazareth is the Son of the Living God and the Messiah? Sweetheart, you got to know this things.
There's more to marriage than sexy mzungu eyes, pale skin and a Brad Pitt body. Also get to know his values, character, morals and any thing you need to know about a man you plan to spend the rest of your life with, or at least part of it with.
Don't just be easily impressed by the he's so romantic braggadocio. Ask questions. Use your common sense. But then again, if romance to you is your ass being shipped on those subsidized Jambo Jet flights to Diani for a holiday, but you choose to ignore his abusive and possessive nature, short-temper, arrogance and detest to your faith. Well, siz you do you. Only remember not to email any soul two years from now with a long list of aki woiyee..
Image Credit: clipartsfree.de