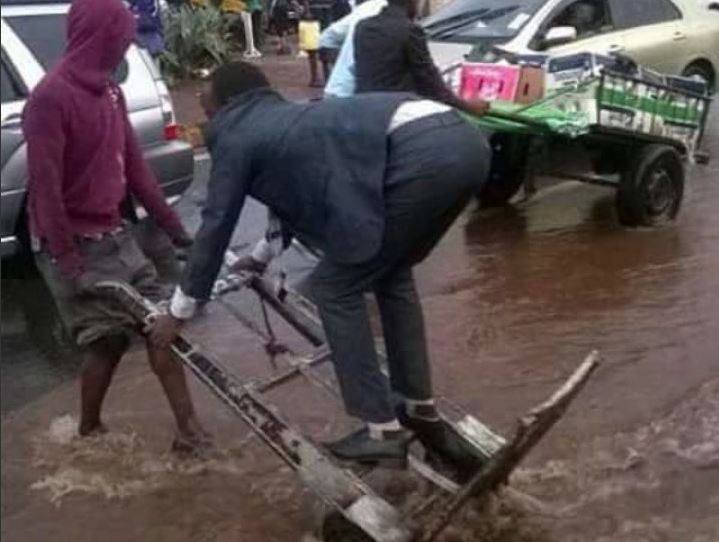 The gods of Nairobi must be crazy
It took my wallet carrying my earthly savings of 321 shillings to be stolen by a preacher in a bus, and a friend conning me a cool 1.4 million for me to instantly realize that living in Nairobi City wasn't for the fainthearted. In fact, it literally required balls of steel to survive in this City.
Well, ever since I did that rural-urban migration hijinks decades ago when Lewinsky was still minting Bill's groin in the Oval Office, Nairobi has always had surprises for me. As a matter of fact, Nairobi did have a surprise for me the first day I set my village feet on its flood-prone soils. By the time the domineering Eldoret Express Bus was hitting Uthiru heading towards Kangemi and just before I could catch the smell of Westlands, I immediately knew I was screwed.
I was welcome by a scene pulled right from the pages of an old fictional Wakanda movie. I saw mischievous looking lads pulling carts, all the while eyeing anything considered valuable around them. I saw frustrated women selling withered sukuma wiki, while attempting to squeeze a smile from their dry, worried City faces. In addition, I saw crafty hawkers selling woebegone roasted maize worth four nights with a socialite back in the village. And yet here I was so sure I was going to Canaan.
Fast track four years later. I was part of a hastily arranged, nondescript fundraising committee to help a friend go to the United States for further studies. Times were tough then. We raised money for the chap for a duration of two years. We would meet almost every Saturday afternoon at the famous, yet laidback Garden Restaraunt to squeeze all our savings into his educational kitty. Some of us contributed to our last coin. In fact, if we would have been coerced further, we were ready, albeit reluctantly to donate our livers, kidneys and blood vessels to help a brother go chew books.
Long story short: the negro never made it past Mombasa Road, leave alone the Airport. Till today he has never bothered, even in the spirit of ubuntu, to explain why he never left. The brother just kanyagia'd that storo like it never happened. Once in a while when times are hard, I have been tempted on numerous occasions to ask for a refund.
If I thought I had seen it all, the gods of Nairobi still had a few surprises under their sleeves for me. Having squeezed a salary increment at my place of work, it was only natural that I move up the food chain. In other words, it was time to upgrade my residential address and move to a slightly safer-ish neighborhood.
And that's how the gods of Nairobi had led me to Njoro, though he would slap you with a charming smile when you add 'man' – an undertaking meant to perhaps validate his masculinity – before his name. Well, man Njoro was a towering chap who looked like he was still being created.
His legendary tales of sniffing vacant affordable houses miles away was told in whispers and great awe in dingy drinking joints across town. In fact, if you listened well, there are some souls who even generously threw around his name at places of worship while giving testimonies of how the Good Guy Upstairs used man Njoro to get them their current humble abode.
Unfortunately, as fate would have it, a month later, Njoro had disappeared into thin air with my cool 3K deposit fee without even showing me a sign of "To Let" anywhere around town. His phone since went permanently mteja. His existence and memory miraculously deleted from the books of the living.
It took me an excruciating four months, 18 days and 49 minutes to get over losing my hard-earned 3K. And rightful so, because it was a worthy amount enough to qualify as bride prize for Christine Nafula Shikoti, my old flame back in the village.
Luckily, five months after the Njoro dramaturgical Brobdingnagian, perhaps on cue, the gods of Nairobi love had effectively bara gacha'd my tender village heart, all thanks to the angelic beauty of Stellah Mwaisaka.
A freshly minted damsel born and brought up in the slopes of Wundanyi in Taita Taveta, Stellah's charm had criminally arrested my southern tropical. Her beauty dismantled my knees, while her bootyliciousness had sinfully conquered my sinful nature, with her smile efficaciously clobbering my village heart into total submission.
I met Stellah at Jeans Lounge, my favorite local tavern.
Allow me to paint the picture for you. Jeans Lounge was a revered place where I frequented to water my throat with fiery spirits as I entertained temptation and sin from erstwhile pretty things, who occasionally would slap me with wicked migingo-ni-yetu smiles in attempts of squeezing a can of Smirnoff Ice Double Black with Guarana from my loins.
At Jeans, Stellah was seated at the bar counter like a boss lady. She was nursing white wine while staring at me as if I had died in a grisly road accident a decade ago and she never moved on. After flirting momentarily, where I upgraded her drink from a characterless white wine to single malt whiskey blended in Chamonix-Mont-Blanc, a town located in eastern France, we formally began dating a few weeks later.
She was a worthy catch that would have propelled my credentials and popularity back in the village to the dimensions of Robinhood, Romeo and Juliet, Nelson Mandela and the People's President.
Eight months later, Stellah, completely bila feelings sent me this chilling cold message that felt like it originated from a morgue:
"My ex is in town. It was nice knowing you."
Say what? Is that it? Like, as in, seriously? I was crushed, and rightly so because to me Stellah was the closest a village boy like myself could ever have come to bagging a pretty thing akin my crush Toni Braxton. I tell you, mama was right when she warned me while quoting John 16:33 the night before I left the village, to be careful lest big-legged women kill me in Nairobi.
It's been years since I migrated to this City. And since I am not planning to divorce her anytime soon, we have managed to establish some ground rules, a sort of mutual understanding. Call it rules of engagement. Though once in a while, the gods of Nairobi in their self-entitlement and ostensibly gargantuan ego, unbridled hubris and misplaced self-righteousness still have the sense of humor to throw surprises at me.
Like yesterday when a friend I haven't seen or spoken to since 900 BC called to ask if I could chair his wedding committee. I told him, albeit rudely that the owner of the number he was calling relocated 11 years ago to the Middle East to fight for ISIS. And the good part about it is the absolute fact that I felt nothing for the chap. Well, that's how good the gods of Nairobi have molded me. #ThegodsOfNairobi