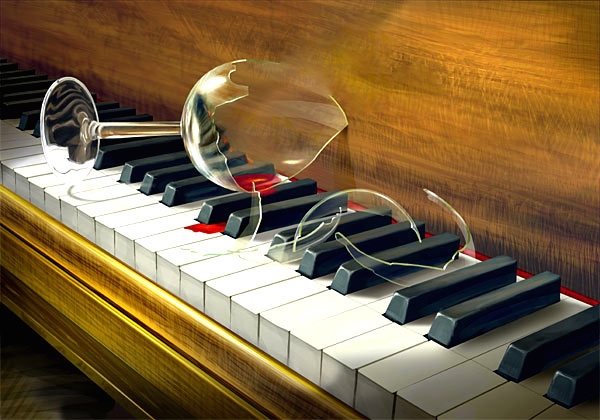 The case of the ex
My  ex called yesterday. The call lasted for 49 minutes, of which 43 minutes involved me listening to her long unwinding monologue. I listened, and listened more as she wandered about her life, her career, her family, her shoes and everything about her… I wasn't offended or concerned about her self-centredness. She has always had this false glassy essence of self-importance, spuriously believing that the Sun rises and sets on her epic forehead.
According to her poorly computed arithmetic, we hadn't met or spoken to each other, on her count, its been now 6 years, 9 months and 11 days. I wasn't startled, as you may expect. That was her kind of thing. She has always been spot on with dates, anniversaries and such trivial matters of remembrance, that has no value and place in a man's world.
As expected, I was curious to know the reason behind her call. I mean, if you haven't spoken to a soul for slightly over 6 years, you must really have a good reason to call them. A good reason such as you want to tell them shitty things like: hey dude, remember a week before we broke up and you came to my place and I served you ice cream on my chest.., well, guess what, your son, aged 5 years, 9 months and 11 days wants to meet you.
To be honest, I was anxiously waiting for something egregious, horrendous, heinous and atrocious like that. I was waiting to be hit by some big news that would not only change my life forever, but also significantly alter the boundaries of Africa. I was waiting to be hit hard. Really hard with some solid news that will make my heart dance sheepishly in my tongue, and cause grandma to sneeze in her grave.
Unfortunately after 43 minutes of me listening to her chattering, or rather her listening to herself talk, the closest she came to hitting me with the blood-curdling of news was this: First, she took a rather annoying long breath intermittently juxtaposed with curious reluctance like she had discovered Morgan Freeman naked in her father's backyard. Then she sheepishly blurted out like an underpaid, unappreciated African gravedigger: so, do you ever miss me.
Excuse me?
I was tempted to shout out, but then I remembered 1 Timothy 4:7 that says we shouldn't waste our time arguing over godless ideas and old wives tales. In the same breath, I was tempted to hit her with that Scripture in 2 Corinthians 5:17 that says "old things" have passed away and I am now a new creation in Christ. I also wanted to quote that verse that says no weapon formed against me shall prosper. Unfortunately, I had missed enough Sunday School lessons to embarrass myself in that manner.
So, like an obedient descendant of His Worship, Your Majesty, The Great Nabongo Mumia, I did what I believe my great great grandfather would do. Without blinking an eyelid while facing Mt. Elgon, I murmured a few Luhya proverbs before I hit her with: when are you available? 
I am in town right now, near Kencom, she answered faster than the speed of lighting. Unknown to her, I didn't have the desire or motivation to meet her. For where I come from, and as my serial polygamous uncle, Saimoni Theophilus Shimuchira Makwakwa would attest with a coal of fire on his fleshy lips, its an abomination to drink new wine on old wine skin, if you know what I mean.
Certainly, I couldn't tell her that, especially given the fact that at some point in my previous wicked life this very daughter of Eve had literally worshiped the ground I stood on. I also didn't want to entertain any future 49 mins phone calls or give her some false hopes akin to rekindling our previous romantic escapades.

Seemingly, I had thought of quoting one of Jesus' parables. The problem was – she was never one of those church types. So the probability of her misinterpreting the parable to be a love story was pretty high. In any case, I couldn't risk twisting her already fragile heart that was yearning for a Midas touch from an authentic African man like myself – born and brought up under the idolized echelons of the village council of elders.
That notwithstanding, I wanted to quote for her one of my mother's Cinderella esque stories that always had a tragic end – the poor girl ended up being swallowed by a large white shark in the blistering African desert. But then again, I didn't want to send the poor girl into the intensive care unit, especially not in my country where a pop of pills alone will cost you an arm and a leg.
Ask that dude in the Bible whose wife turned into a pillar of salt. I tell you, there's nothing fancy about being double-minded. I didn't know how to tell her that I wasn't feeling her vibe anymore. That for the love of Toni Braxton (my crush), I kinda moved on. I mean, how do you even start telling someone you once loved that you don't have feelings for them anymore? How do you tell them that they are in your past, and you don't want anything to do with them anymore?
How do you tell them, and expect them to say shitty things like: You know what Douglas Waudo, I totally get you. I'm cool. It's fine. I don't even know what I was thinking. Don't worry, we good, dude. Yes, expect them to say all that niceties, and walk away into their sunset years, without ever having a thought of planning to kill you, and make it look like an accident.
I mean, for the love of Judas Iscariot, who knows how many men have died in this town, and we all go like: why was he driving while drunk – when maybe in real sense it was something to do with a crazy ex who never moved on even after 6 years, 9 months, 11 days, 123 minutes and 18 seconds.
I told her, I will call her back – that my mum was poking me on Facebook. Its been 24 hours, 29 minutes and 8 seconds, I am yet to gather enough balls to call her. So, this morning she waved at me on Facebook Messenger (though I had blocked her). Now, I am starting to become a worried man. Who knows what she got under the sleeves of her skinny dark heart?
My Facebook post this morning was loud and telling: No weapon formed against me shall prosper – Isaiah 54:17. As if that wasn't enough, moments later I had slapped my wall with Genesis Chapter 19, with special emphasis on that part where Lot and his family were ordered by the angels not to look back.
I can only wish that she reads between the lines.