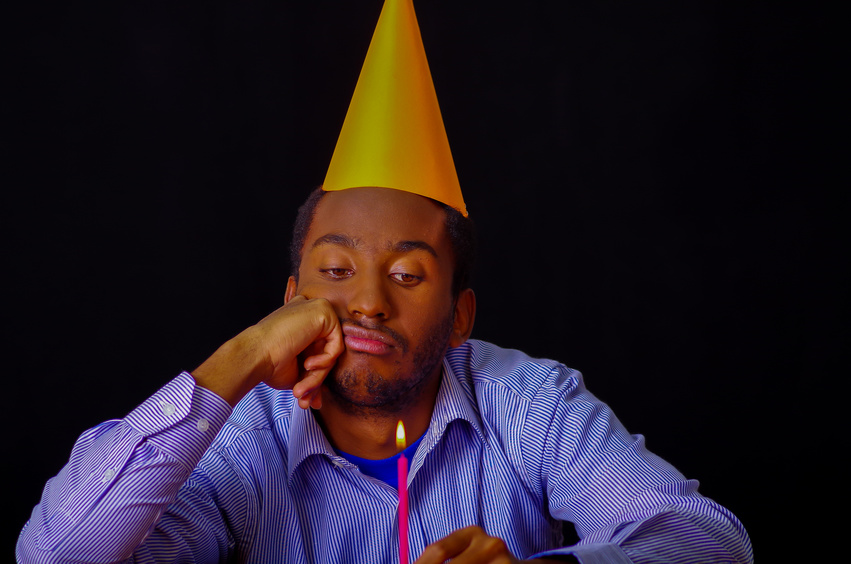 A man who cannot marry says all women are witches
He had an attitude so big it couldn't even fit in his own huge head. He walked with a swagger as if his corrupt father owned the universe.
He spoke smoothly, yet with a tinge of self-importance and entitlement, you would easily be confused to conclude that he was the best thing to ever happen to women. His unbridled superiority and egotism was apparent in the way he carried himself. I tell you, this guy was simply overflowing with pride, arrogance and narcissism.
In all fairness, however, he was a young, attractive cultured man. Cultured enough to pay taxes, but only when he bought fuel. He was in his late 30s and the only thing that was so breathtaking about him could actually be described in four words: his Brobdingnagian imperialistic forehead. I would constantly joke that his forehead was so huge, it could be used as a cargo plane to supply animal feeds to Ouagadougou.
In the true sense of the word though, he was a spoilt brat brought up by his parent's corrupt wealth. Consequently, he lived his life as if the world owed him praise and admiration.
His father was the Country Director in some international NGO, whereas his nascent mother (now civilized and cultured by expensive weaves and an imported second-hand car) was… wait for it… a nutrition and gender integration capacity building specialist. Whatever that meant!
He was corruptly employed even before he hit adolescence as a Programme Manager in his father's led NGO and was slapped with a six-figure salary. His name for all egoistic purposes and significance was Jerry, though his identity card states Jeremiah. He was a lazy bone who was brought up with the finest things in life, as a result he treated everyone whom he perceived poor as an uncivilized, primitive, inferior human being.
But then again, who would blame him? For while village boys his age were busy hunting antelopes, squirrels and porcupines for dinner, Jerry was busy filing his nails, and sobbing while watching Mexican soaps.
In fact, while his age mates were busy drinking silly their miserable middle class salary in some dingy and poorly ventilated pubs across town – all the while feeling very successful in life with their second-hand imported juggernauts conspicuously parked outside – Jerry was busy babysitting his emotional mother, while slapping their housemaid with lustful unbiblical looks.
During his free time, which actually was all the time, his pursuit of happiness involved intermittently squeezing sinful pleasures from the loins of some desperate, confused and priority-misplaced campus divas, who believed the Sun rose and settled on her epic skimpy attitude.
For what is worth though, Jerry was liquid with cash, had a smooth tongue, and as a result, pretty damsels from across town fell heads over heels to just catch his attention, if not his bank account.  What was unsurprising about him, however, was the fact that he treated women without respect and value.
As far as he was concerned, he was a man after every girl's dream and it was the responsibility of every pretty thing carrying a beautiful face complimented by a low self-esteem to perpendicularly fall on their back before him. Well, like they say, the fruit does not fall far from the tree, as a consequence of carelessly broadcasting his wild oats, Jerry had sent some middle class campus damsel into the family way. And as fate would have it, that's how his wealthy-related, carefree life had changed for the worse.
His baby mama looked like one of those harlots pulled right from the pages of the Old Testament. She was light-skinned, surprisingly beautiful, and depressingly annoying. The gods had cursed her with a loud mouth and an appetite for sin.
She craftily compensated her low self-esteem by hiding behind her outrageous multi-coloured weaves. In addition, the gods had disgracefully slapped her with a ridiculous name that would make my ancestors in the Congo sneeze in their graves in disgust. Cheche was her name.
Cursed with a big ego that needed constant massaging and validation, and perhaps to proof her self-worth and fixation for her personal inadequacy, she had gone after Jerry.  Certainly, Jerry being who he was, it only took three shots of Whiskey, a packet of  cigarettes and two roasted sausages for him to oil her loins.
As the gods would wish, she got pregnant and that's how Jerry's nightmare officially begun.
Jerry and I go way back. For starters, we grew up in the same village, save for the fact that his father was more thirster to become rich that he eventually sold his soul to the devil through corrupt quick get-rich schemes. Well, ever since we were kids growing up in the village – parched in the middle of the Rift Valley, my rivalry with Jerry had never known boundaries. We competed for virtually everything, including bragging rights.
Seemingly, Jerry has never officially forgiven me when I outsmarted, outwitted and outclassed him by bagging the lovely Nafula, as my the village flame. Though he never publicly showed his resentment and hatred towards me, my crystal ball has always told me he still considers it an unpardonable sin.
Well, its been years since we last met, until recently when he reached out to me. I was curious to know why he needed to see me. So, like a confused retarded politician, I agreed to our meeting.
I met Jerry two days after a litre of fuel was demonically hiked to an equivalent of a bride's price in my village. Apparently, the NGO that Jerry's father headed was looking to outsource an individual that would undertake communications consultancy for them, and that's how fate conspired our encounter.
My first impression of Jerry was that he looked like a guy who had prematurely staggered through the labyrinth of manhood looking for his own identity, and almost succeeded.  He was vicious, manipulative and arrogant as they come. He also had a noticeable nice false sense of pride. Though if you ask Pradeep, my University professor, he would have slapped you with: "Misery acquaints a man with strange bedfellows" a quote from Shakespeare's Tempest.
Minutes into our meeting, I would easily decipher that Jerry hadn't changed mind. He still spoke as if he had all the monopoly on knowledge and wisdom. He was still an impatient man who was fond of going straight to the point. He would give me the consultancy job on condition that he gets 40 percent of the net income, which of course was his facilitation fee. Eleven minutes later, we had settled on 28 percent.
However, what I didn't know at the time was the simple fact that Jerry was after settling boyish romantic rivalism with me. Apparently, the so-called consultancy gada garba was simply a means of him getting to Nafula with my full knowledge, and according to him, with my assistance. It requires a lot of carefulness to kill the fly that perches on the scrotum, wisely goes a Ghanaian proverb.
Now for those waking up to the existence of this amazing website. First of all, welcome to the 21st Century. Secondly, Nafula is the damsel I grew up in the village salivating after, while battling jiggers and malnourishment.
Forget the lies they say in love songs, those days I would have literally crossed the Atlantic Ocean on foot just for Nafula. To me, she was the closest I could ever have gotten to those hotties in soap operas who drunk a whole damn bottle of expensive Whiskey for breakfast, expensive enough to eradicate poverty in Africa.
Well, I may have moved on. Grown a wannabe-wealth-related pot-belly. Relocated to the City and all that. But the truth of the matter is, Nafula will always have that guarded folder in my hard drive, and special access to my central processing unit.
So, for the egoistical Jerry to think that he can use me as a stepping stone to butter Nafula's bread, well, like they say in movies: Houston, we have a problem. And as my devil nonsense, Scripture-spitting, heaven-bound mother likes saying: the antelope does not blame the one who killed it, but the one who stirred its rest.
I am contemplating taking karate classes. For this battle, I am not loosing easily. I will defend my 'historical references' with my blood. Ok, that's too ambitious. Maybe I will simply do it with a hashtag: #FoolishMen or #RespectMyFlame etc so that no one gets injured.
But then, seriously, what's with some men and egos? Jerry says Cheche, his baby mama isn't a wife material (whatever that means), but me thinks a man who cannot marry says all women are witches.
Image Credit: psychologytoday.com