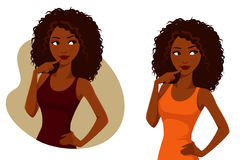 The village socialite
World War III is looming in my village. Luckily, this war has nothing to do with politics of ethnicity, selfish politicians with unbridle ambitions or the Iraq nuclear deal. In fact, this war has nothing to do with Mbugua, the local butcher who some suspect sells donkey meat in the only butchery the village boosts of.
The war is also not about Alfayo Shikoti, the village herbalist who's been masquerading in the village as Olivia Pope. This skinny chap carrying angry wrinkles on his dilapidated face, has been charging villagers an arm and a leg to purportedly fix their cancers, diabetes, malnutrition, adultery, obesity and winning Shinda Milly na Safaricom promotion. He's also the same chap who predicted El-Nino will start months ago, and yet till now heavens hasn't even bothered to sneeze.
Believe it or not, this war involves a certain kinky village socialite. Yes, nowadays almost all villages have one of these ones. This war also has guest starring stars in the name of the village preacher, Dr, Reverend, Bishop Bifwoli Omurondo aka Mtumishi wa Mungu (God's servant) and my uncle Theophilus Shimuchira Makwakwa, who seems determined to bring sexy-back.
Village records indicate that my uncle Makwakwa has chewed salt for 61 years old. This means that he was an old man. Old enough to settle serious village disputes. He is a grandfather, after all, and as records show, he is at that age where many of his peers can't even remember their mistresses' names. But not my uncle. The bastard is as fit as an Alabama coyote, and fresh as a monthly salary.
It's his wandering eye and teenage-like raging hormones, however, that is threatening peace and harmony in the village. You see, when my uncle married his latest arrival, the voluptuous 19-year old Sulumena, naturally the village expected him to cool his heels. In any case, at his age squeezing an orgasm out of the loins and groins of this endowed young and restless daughter of Eve was going to be a full time job, or so we thought.
So, when word began going around the village's dusty roads that my uncle had secretly taken to oiling the cleavage of the 23-year old Christabel Nyangweso, the village socialite and a well-known side dish for Mtumishi wa Mungu – war was declared. This war, according to extracts from Mtumishi wa Mungu fiery sermons was not just a physical war involving illegal weapons. It was also a spiritual war involving heavenly weapons of mass destruction (read prayer and fasting).
Mtumishi wa Mungu, the founder of the Pool of Healing Nations Bethsaida International Church of Jesus Christ was a man of interesting character. He offered his spiritual services and panda mbegu (plant a seed) sermons to the village's poor souls in his dusty iron-sheet structured church located at the market place over the noisy chug of a diesel-powered generator with unrivaled conviction and aggression.
Therefore, when word went around that my uncle was also a beneficiary of Christabel's devolved sexual services, Mtumishi wa Mungu together with his ignorant staunch followers set on fire my uncle's small tin-roofed semi-permanent house. He was conveniently accused of witchcraft, adultery and being a member of illuminati. For what is worth, that tin-roofed house was the only earthly possession that my uncle shared with his wives and big-headed children.
Now in case you are wondering how my 61 years old uncle could easily bag Christabel, your average village super model. Wonder no more. The secret, according to Mutisya the self-proclaimed village investigative journalist laid in a discovery called mukombero. 
Mukombero for those who never got the memo, is a herb that improves libido. It is more of a natural Viagra. Well, with that understanding it's therefore easy to simply say that whenever a woman, in this case Christabel goes Makwakwa, there was no looking back.
Speaking of Christabel, allow me to paint the picture for you. First, as per the village's standard, she was the most beautiful woman to ever grace the earthly soil in this part of the world. In fact, she was the closest the village will ever get to the likes of Kim Kardashian. She was well-endowed from behind, and whenever she walked, her womanliness followed her.
She looked like a crafted beautiful Beyonce at the top and an ugly masculine bumped up weightlifter at the bottom. Her monstrous weave was perched perfectly on her skull like a bird's nest, while her more than to handle body (read chubby) was disciplined to squeeze into teenage clothing. In an effort of looking light skinned, she looked like someone had microwaved her face, and almost succeed. Her beauty rocked the foundation of the heart's of village men, and that maintained her relevance and sustained flashy lifestyle.
As someone who was silently being taunted as the next County Governor, even possibly future president, my childhood friend Abuya Abuya, who says his name is too sweet you have to say it twice, had briefly visited the village to assist uncle Makwakwa rebuild his house.
You know this thing with test-tube politicians and turning any tragedy into a political campaign. Interestingly enough, the police in their own words were still pursuing leads to the case, though no suspect had been arrested so far. Of course, with Abuya Abuya's unbridled political ambition, he didn't want to rock the boat or stir up the status quo. So,with great conviction he ignorantly rubber-stamped the police complacency.
Cunningly, and in a diplomatic firm-handshake and a straight-fake smile, you know that smile that neither says whether one was happy or sad, Abuya Abuya had managed to reconcile my uncle and Mtumishi wa Mungu. If you really have to know, remarkably all it took was some delicious chicken thighs accompanied with a mountain of ugali, to facilitate the reconciliation. 
Afterwards, the sumptuous delicacy was watered down by a kettle of tea for the man of the cloth, and half a litre of second-generation whiskey for my uncle Makwakwa. Ironically, Mtumishi wa Mungu while quoting some Scripture that talks about sinners will still go to hell anyway, in reference to taking a jab at uncle Makwakwa had donated a paltry Kshs. 1,427 as part of his church's support to rebuild Makwakwa's house.
Abuya Abuya out of misplaced political excitement had began a hashtag #Kenyans4Makwash with the aim of fundraising for uncle Makwakwa to rebuild his house. However, I was quick to remind him of two facts.
First, with our president's recent confirmation that Kenya's economy was equivalent to Burundi's, and the fact that the government is shitty broke that we have no 2K to add to Teacher Wanjiku's tattered payslip, no Kenyan actually gave a crap about Makwash. Secondly, except for the lovely socialite Christabel and that veterinary doctor who is still struggling to pass his diploma exams, no one in the village knew what, why, when or who Twiraa was, not to mention hashtags.
Subsequently, at the end, the two gentlemen were made to sign a memorandum of understanding to keep a distance of one kilometre from each other. It was also further agreed that Christabel should be given a chance to choose who she wanted to get her grove with, as long as she didn't sleep with the two gentlemen respectively. Though if you ask me, frankly speaking, I don't think we have seen the end of this Christabel saga.
Image Credit: dreamstime.com