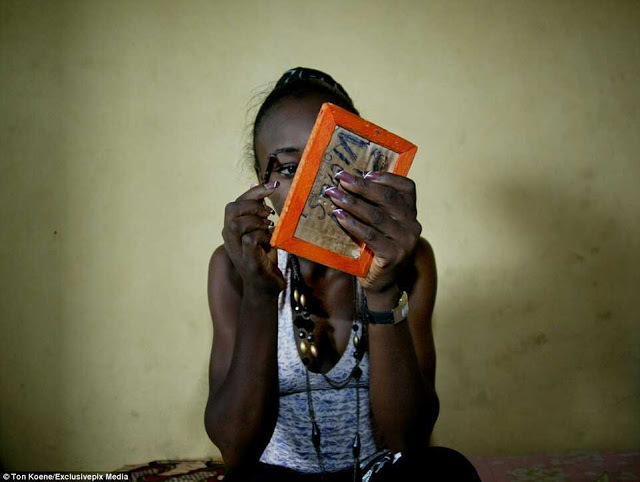 The prostitutes' disease
While top medical researchers still can't figure out whether HIV/AIDS has a weave or horns, herbalists in my village have been treating the damn thing for years. In addition, they fix cancer, chase away the demons of joblessness, recover lost husbands, enlarge 'manhood', rig elections, impregnate barren women, speak to the dead and go to church.
Forget about the likes of Dr. Zainabu Maina Mohammed Njoroge allegedly from Tanzania who camp in dingy rooms in Ngara, Nairobi, trying to squeeze a shilling from ignorant Nairobians. In my village, it's the herbalists who run the show both in the physical and spiritual realms.
Perhaps no one is widely believed to speak directly to the gods than Alfayo Shikoto, a stout, dark, huge-framed old man – old enough to settle serious village disputes and moderate the presidential debate.
Alfayo is a grandfather, after all, and records indicate that he has chewed salt for 65 years, an age where many of his peers can't even remember their mistresses' names. His pursuit of happiness involves smoking crushed tobacco and murmuring to dead people. By day, he battles villagers' problems, while at night he moonlights as a worthy companion for widows.
Alfayo lives in a small tiny grass-thatched house with his four wives and 16 children, which is extremely an achievement by local standards. Notoriously known to summon gods and the spirits of the dead at the twinkling of an eye, he is rumored to be oiling Selina's waist. Selina is the red-lipped widow who lives down across the river and is also rumored to be carrying the prostitutes' disease, for that is what HIV/AIDS is known in my village.
The person who doesn't know where his next dollar was coming from usually didn't know where his last dollar went, the alcoholic Alfayo likes yapping. Well, at least for him he knew where his next dollar was coming from – and it came from his village illicit brewery that was operated by his arbitrary second wife, Mama Nafula.
Better still, he knew where his last dollar went – and it went to seduce and lavishly provide for his neighbor's widow, Selina. Selina became a widow when her late drunkard husband summoned himself to the next life after falling into a pit latrine while on an honorable endeavor associated to call of nature.
During the funeral, Alfayo having described himself in many idioms, was in essence saying that – since he was a reputable man blessed by the gods to cure all diseases and troubles of mankind – he would truly be damned not to be able to provide for the poor widow who had been left behind in her prime age of 27 years with five notorious rascals.
Weeks after the funeral, Alfayo had literally attained the respectable popularity of the likes of Mahatma Gandhi, the Pope, Mama Teresa and my great grandfather, Your Majesty, His Worship, The Great Nabongo Mumia.
In fact, if the words of Lukhonje, the first man in my village to pay dowry without negotiation could be believed, he was in the process of writing a memoir about the great Alfayo. And while some few intelligent drunkards did question Alfayo's apparent display of humanitarian efforts to provide for Selina and her troglodyte children as a subtle way of trying to convert her into his fifth baby making machine – their inebriated concerns were conveniently dismissed as idiocracy and jealous, bordering to jilted lovers.
And with Alfayo's popularity now rivaling that of the President and the Pope you should have seen him basking in the glory of all the praise and admiration that the fibre of his being could receive. As a matter of fact, he would be seen walking cockily around the village with his exposed hairy chest – shoulders over his head – perceptibly consumed with a selfish sense of false glassy importance.
Well, in an effort of walking the talk, Alfayo sold two of his skinny malnourished goats to pay school fees for Selina's children, never mind that nine out of his own 16 children had dropped out of school at the average of Standard Five after futile attempts to memorize the alphabets.
As the gods would have it, unruly teenagers carrying raging hormones had un-orthodoxically impregnated two of his daughters, hardly in their puberty. Additionally, three of his sons, now certified boda boda entrepreneurs, were allegedly accused of stealing two skinny goats from the neighboring village. The money, which they invested in second-hand bicycles after cheaply selling the goats to Mbugua Wa Karanja, the only validated butcher in the village.
All in all, Alfayo was however determined to administer his expanding family like a Laibon. Offering calculated democratic space to his wives and children, as he controlled access to his three acre depleted rocky land.
In fact, as an admirable guardian who was more obsessed with massaging the ego of his new found heroism, he ensured Selina's children eat meat at least once a month and had invariably joined St. Bartholomeo Church Sunday School Choir. Never mind, that his own scoundrels couldn't even remember their way to church.
And perhaps more importantly, Alfayo had ensured that Selina's little rascals had accordingly been baptized in the nearby-polluted river by Mtumishi Wa Jehova Aliye Juu, Bishop, Reverend, Doctor, Brother Timotheo Shimbalala, a fiery Pentecostal sent by the powers that be from Nairobi to lead the poor village souls to purgatory.
Mtumishi Wa Jehova Aliye Juu, an otherwise slightly tall huge fellow with angry scars on his face, which were a permanent reminder of his days as a sinner, was a man believed to have the heaven's speed dial at his fingertips. His rather angry melodramatic sermons were always characterized with punctuations of splittingly loud prayers and refreshingly boring hymn songs, accompanied with oozing scary sermons about the sulphuric fire found in hell.
His token of gratitude for offering spiritual services was monetary funds, un-biblically squeezed in his preachy hands as if you were bribing a traffic cop. Additionally, Mtumishi Wa Jehova Aliye Juu was always rewarded with a full kettle of tea accompanied by crunchy mandazi, which were thankfully prayed-upon before conveniently converted into carbohydrates.
Anyway, seven months after the funeral of Selina's husband, the pretty thing stealthily started appearing to be adding weight faster than the rate of teenage pregnancies in my village. Naturally, my village being a place where rumormongering is considered an important aspect in national cohesion – evidently Selina was suspected to be pregnant with Alfayo's child.
Selina's character perhaps is best summoned up by what she is not.
Unlike other village 27 years old widows, she was neither charismatic, nor flashily intellectual, nor domineering. Yet nobody could deny that she was a highly effective housewife who kept a fascinating smile on Alfayo's face, and blessed her little rascals with obesity. Thanks to the constant supply of carbohydrates, in the name of bananas, potatoes, porridge, cassava and yams, which she fed them on.
After the death of her husband, she kept dressing in a manner to de-sexualize herself, yet she was truly constructed. And as villagers would later silently and unanimously agree, surely such a young pretty thing was bound someday to make even the educated intellectuals smitten with the love lust bug.
Rumour now has it that the indefatigable Alfayo is considering throwing his name into the village political arena in 2022 for the position of an MCA. As a matter of fact, he has already begun yapping at local watering joints of being called mheshimiwa, driving a big Toyota Prado and putting on a huge ridiculous-looking potbelly. What, however, and unfortunately he doesn't seem to remember is that small detail about Selina carrying the prostitutes' disease.
The prostitute disease, as villagers referred to HIV/Aids, was a disease only associated with prostitutes, and till then a few people in the village had died of HIV-related illness. Yet even in death, their sorrows weren't over. Their coffins were wrapped in thick black polythene bags and buried under the Council of Village Elders Act – fenced off for a 10-metre radius to ensure no cows grazed there lest the deadly virus lying six feet under contaminated the milk.
For now though, the whole village is holding its breath waiting to see Alfayo dramatically losing weight as his eyes diminish in their sockets, while the colour of his skin turn to red as he battles a constant annoying cough while waiting to be summoned to the next life. In fact, two gentlemen, among them my former primary school teacher have already lined up in anticipation of inheriting Selina once Alfayo breathes his last.
When you cry for rain, you cry for mud too, goes a Zambian proverb. No wonder Galatians 6:7 boldly says: Do not be deceived: God cannot be mocked. Whatever a man sows, he will reap in return.
Image Credit: @Ton Koene/Exclusivepix Media / sebiomoadeolu.wordpress.com