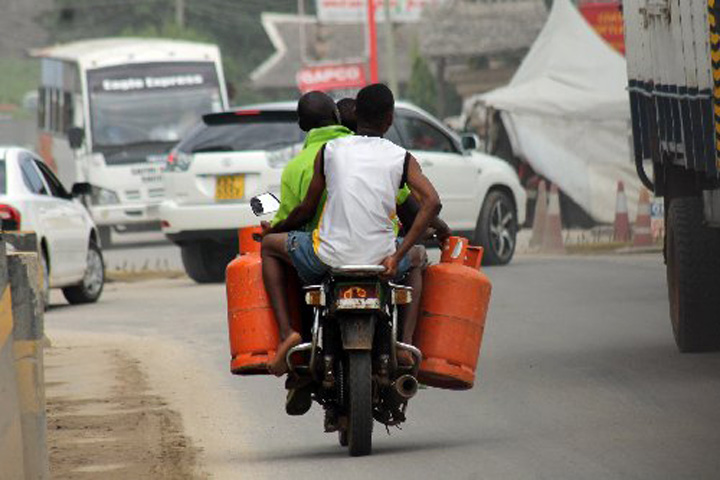 Saving my village from the motorbike menace
There is this idiot in my village who has been running amok ever since he sold his ancestor's two acre land to buy a motorbike. He's partially responsible for the setting up of the boda boda ward at the poorly funded village dispensary.
He rides his pathetic two piston engine machine like he is to land on the moon. His hair is unkempt, he has bad breath and he only showers when he is accidentally rained on. Worst still, he's arrogant and disrespectful.
Recently, he disrespectfully refused to give way to my village entourage that comprised of my naturally aspirated, horizontally four-cylinder engine, five-passenger compact SUV Beast, two pimped tuk tuk and seven bicycles. I'm told he had mumbled off some curses in his dialect to me. And since I occasionally irrigate the throat of the Officer Commanding Police Station (OCS) at the popular Makuti Inn – a phone call is all it took for his motorbike to be impounded.
I'm told he plans to visit a semi-naked witch in Zanzibar to ensure that my balls are sterilised so that I will never experience the joy of impregnating a woman. I had laughed off at the threats by entertaining my feelings that evening with a skewed lap dance at Makuti Inn. For your information – at Makuti Inn, a lap dance comes as a complimentary package for buying alcohol.
I am also reliably informed that not long ago, this idiot almost ran over Isabella Eleketina Busolo, my maternal grandma, when she was busy crisscrossing the village in search of herbal cigarettes (read tobacco). And when grandma tried to admonish him, he impertinently slapped her with salacious insults.
An old woman is always uneasy when dry bones are mentioned in a proverb, goes a Nigerian proverb. I am told grandma really 'catched feelings' after that, she went on hunger strike for 49 minutes.
Now when that sin of causing emotional distraught to grandma was added to his growing list of unpardonable evils, I had convinced the OCS that if this idiot's motorbike couldn't be impounded, this guy had the potential of threatening the village's national security. I had added something to the effect of, when that happens, his bosses in Nairobi won't be very happy with him (read he risked loosing his job).
My grandma may be slightly ugly due to the age monster which has certainly caught up with her. She may at times sound unreasonable especially when she insists that we take tasteless cassava every day for dinner. However, despite her misgivings she is still the jewel of my life, and hurling insults at her is absolutely unacceptable, and in fact in my book equals treason and crimes against humanity.
Village records indicate grandma has chewed salt for 79 years. Interestingly though, she still has her memory intact, an age where many of her peers can't even remember their husband's names. She also has her swagger on point. I mean, wait till you see her shake her legs whenever Jacob Luseno's international hit, Mukangala hits the airwaves. And no, she is neither on any special expensive diet nor is she a member of an uptown gym. In fact, the only exercise she does is limited to being chased after by grandpa for purposes of corporal punishment.
Forget now days when you quickly call randy FM radio stations and bitch the whole morning when your spouse becomes erratic. Grandpa owns a bakora which is religiously used to fix all marital problems. And who could blame him? When he married grandma at a small grass-thatched dusty church in Emabungo in Kakamega County in 1938, grandma's clan slapped him with an invoice reading 11 skinny cows, an ugly Zebu heifer and some malnourished goats. It was a worthy bride price, because strangely it somehow also included a 1927 model sewing machine.
This in essence gave him the task to administer corporal punishment whenever my grandma was seen giggling with men along the river banks, or exported sweet potatoes, yams and cassava to her starving clan across the valley without grandpa approval.
Speaking of bride price, my grandpa used to say that the reason why there are so many divorces these days is because young scoundrels are marrying wives who can't even boil an egg, while paying bride price equivalent to three nights with a prostitute.
In fact to his credit, it's rumoured that grandpa is the only man in the village's history who paid his bride price without negotiating. I mean, you can't go through all that to bag the prettiest damsel in the entire village only for some bad breath idiot to disrespectfully insult her because he owns a motorbike.
I had paused as I lectured patrons at the Makuti Inn. By the end of it, we had all agreed to petition the village council of elders to summon that idiot, as an example to other over-enthusiastic motorbike lovers, who easily forget that it's illicit brew and prostitution that powers the village economy, and not their orthodox boda boda entrepreneurship.
As I was about to call it a night at Makuti Inn, I had bumped into Nafula, an old village flame. After a few chit chats she had informed me that that idiot had also called her names reserved for instant gratification service providers (read prostitutes), after she declined his sexual advances. Ooh! Boy! I was so furious, I had threatened to literally kill that idiot and eat his liver.
Let me put this into perspective so that you understand my furiousness. No one, first, messes around with grandma. Secondly, no one messes around with Nafula. We may not be dating, and in any case, she may be married. Nonetheless, she still is my old village flame, who occasionally allows me to generously oil her cleavage.
In case you are still wondering, Nafula was the first girl to promulgate my night stick. And though she struggled to fit it into her mouth, she swore later that it tasted like candy dipped in succulent-vanilla-draped-strawberry. She may not have had the perfect sitting documents like her cultured and emancipated pretty things in the City.
However, the daughter of Shikoti, the village herbalist, sure had moments and swagger to rival girls in a popular magazine. After all, she was the closest I could get to oily big-legged irresistible sexy damsels in one of those badly shot Venezuela porn movies.
With the newer sin added to the idiot's list, I had paid a courtesy visit to the OCS the next morning carrying a smelly envelope. As I speak now, that idiot's license has been permanently revoked, despite some local NGOs yapping everyday in protest about sijui social injustice and human rights.
With that bold move from the OCS, records indicate that the number of motorbikes in my village has dramatically reduced, with the youth preferring to date agriculture. Also that new wing at the village dispensary has been forced to close due to lack of clients. And for that idiot, I'm told he has been employed as Director in charge of Homeland Security (read watchman) at a local secondary school. If you think you are too small to make a difference, then you have never spent the night with a mosquito, goes an African saying.