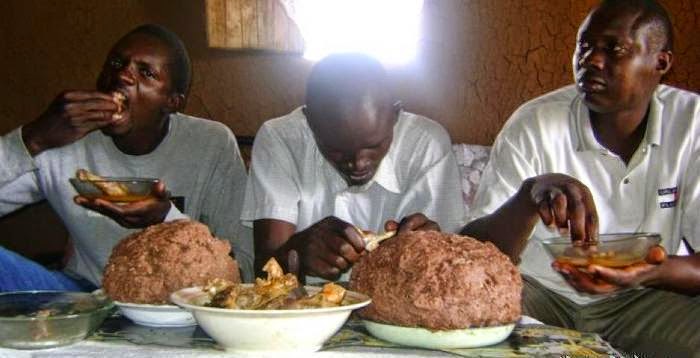 Let's play stupid, its the holiday season
Make no mistake about it. My village knows how to party. Majority of the population may be living below the poverty line (whatever that mzungu nonsense means). However, when it comes to the holiday season, no one parties like my village.
Let me paint for you the picture of how it went down this past festive season.
Well, not wanting to be left alone in the City, I arrived in the village slightly after 1600hours. And due to global warming in my wallet, my intention was to simply sneak into the village, lay low for a couple of days and sneak out without much ado. But I was wrong.
The first person at the gate to welcome me was my melodramatic uncle Theophilus Shimuchira Makwakwa, the 61-year-old serial village polygamist. He was accompanied with his latest arrival, third wife, Sulumena. The chap had literally sniffed me miles away.
And if I thought it couldn't get worse, well, it did. By the time I was switching off the car's engine, a crowd had developed, prompting a tent to be hastily erected as some poorly tuned music irritatingly blasted Jamaican riddims. In the meantime, Teresa, our aging cow had been impulsively summoned to the next life.
Within an hour, Nasiloli, the official village mama pima (illicit brewer) had shown up with her skimpily dressed school dropout waitresses, so much to the excitement of uncle Makwakwa. Apparently, the village was preparing to party through the night for the return of 'their son' who had recently stepped into the family way.
My father used to say that no one can fight the course of the river. I had no choice but to reluctantly play along and embrace the greedy festive spirit.
Three hours into my arrival, the village was literally partying like there was no tomorrow. A bonfire had magically been lit near the makeshift tent, where the ribs of Teresa, were being roasted, amidst serious argument of who should eat the cow's tail and boobs.
At the far end of the compound, the 69-year-old Nasiloli was making a killing from selling all kinds of illicit brew. She was giving established brewery limited companies a run for their money. Her illicit brew was lethal concoctions that propelled even hardcore bigheaded villagers into either a temporal coma or semi-permanent insanity.
Three adolescents who looked like they dropped out of Standard Six after futile attempts of memorizing the alphabets were assisting Nasiloli transact her business.  From the way they were dressed and the way they were generous with their smiles, they appeared to be pregnant-compliant.
Predictably, uncle Makwakwa who had stuck around where the fiery brew was being sold was eyeing the tall one with a protruded chest. Her chest was so big it was as if she was breastfeeding a herd of cattle. In addition, she had long uncoordinated legs and a village attitude that would scare away tourists.
The other two who seemed to have a low self-esteem that was as skimpy as a postage stamp, were plainly giving a new meaning to push-up bras.
On the other side, next to the tent, Japheth Odhiambo popularly known as Dj Odhis was dropping hits after hits from his 12-battery powered Panasonic double deck radio. The radio was dangerously connected to the electric cable from the main house. However, no one seemed to care. And why would they care, if death and electrocution were busy enjoying the holidays.
Dj Odhis, a dashingly tall individual, carrying suspicious scars on his left ear was a childhood friend. While most of us were diligent in class memorizing letters of the alphabet, Odhis was busy entertaining sin along the village bushes that dotted your way to the river. As a consequent he was expelled from school after sending Wanjiru, the 16-year-old daughter of the local Agriculture Extension Officer into motherhood.
Two years later, Odhis had transformed into a professional village thief. In fact, rumour had it that he operated a gang which used to be hired by powerful people in the neighboring village to send business and political rivals into the next life.
It's further quietly rumored that a year ago he had threatened to kill his father and eat his brain like ice cream, if he was not allowed to sell a piece of the family's rocky land. Incidentally, he only gave up after his mother threatened to curse him by undressing in public.
It's rumored that these days he has 'cooled down' after one of his gang members was stoned to death for stealing a motorbike in the neighboring village. Although, of course, if you ask Edward Lukhonje, the first man in the village to pay dowry without negotiation, and a self-confessed village historian, Odhis's 'cooling down' was as a result of him coming to terms after realizing that he was carrying the prostitute'd disease – for that is what HIV is known in my village.
As the night slithered on, I was laughing out loudly around the bonfire at uncle Makwakwa's skewed yesteryear jokes as we devoured the roasted ribs of Teresa. I tell you, my uncle may have chewed salt for 61 years, however, his sense of humour was still on point, and so were his dance moves.
Uncle Makwakwa's pursuit of happiness, besides chasing his errant wives around the village for purposes of corporal punishment, was to daily drink litres of busaa (local illicit brew). The only food I know one can drink. And that's why those with a smattering of Swahili call it chakula kinywaji (food that you drink).
He was the kind who believed that busaa had a definite role in the diet of an individual and could be considered a component in the steering wheel of nutritional foods and the fight against famine in Africa. After years of imbibing the frothy unhygienic stuff, Makwakwa had developed a ridiculous potbelly that made it difficult for him to neither use all the buttons of his shirt nor see his feet.
As I was busy bonding with villagers around the bonfire, while wandering with my eyes, she had passed while erratically slapping me with little girly smiles.
She was of medium height and slender, with just the right curve on the hips. I had looked at her with renewed interest because in a way, she reminded me of how I wanted my future mistress to look like.
As she walked by, her womanliness followed her flawlessly. I tell you, this daughter of Eve was truly constructed in all form and manner. She was aesthetically more beautiful than your average village girl, and she walked gracefully and with the agility of an African Queen.
Well, like they say, flies follow corpses to the grave for lack of sound judgment, and with that I had followed her as my heart danced in my mouth.
She noticed I was following her, and so like a wise village squirrel, she led me behind the main house. I was consumed with unfathomable curiosity since I didn't know who she was. In my defense for following her, well, put it this way, this was my "homecoming party", right? Therefore it was only reasonable that I know, and if the gods allow, audit everyone present.
She stood a few metres from the towering water tank, her back facing me.
At that very moment, I was literally holding my heart on my palm. She slightly turned, while seductively pushing her long away from her left eye, so that I could simply get a glimpse, just glimpse of her natural African beauty.
Ladies and gentlemen, just before I could twinkle or swallow my saliva standing in front of me, in all her beauty and village royal elegance was Christine Nafula Shikoti, my old village flame.
Her long luhya hair was impeccably peached on her dry skull. Her smile though deceivingly innocent was naughtily packaged and seductively delivered. While her little innocence demeanor temporarily hid behind her holy grail that was her sequined dress, which was perfectly complimented by her medium height.
She threw a lavish smile at me as I moved closer to plant a migingo-island-belongs-to-Kenya kind of kiss on her succulent lips. Once again, in my defense, they say a man must accept his fate, or be destroyed by it.
She wore a dress that said virginity is a virtue found only in imported Olive oil from one of those Middle East countries where having a Facebook account will earn you a death sentence by stoning.
If I had my way, she would be carrying a royal exotic name like the Queen of Canterbury or the Princess of Sinyereribury, or at least something to that effect. However, as the gods would wish she was slapped with a true indigenous African botanical name, Nafula.
As we were busy behind the main house, doing what my stroppy campus mate Mwongera from the slopes of Mt. Kenya would awkwardly call kuriana muju (read Kikuyu language for kissing), I could hear silly groaning and moaning coming from the far end of the fence. Slightly startled and a little curious, I reluctantly put a pause on our passionate, wet and long kissing as I moved closer to investigate.
I was curious to know who was carelessly broadcasting his wild village oats near a thorny fence without a concern of how the gods would react. There under the ghostly rays of the miserable village moon was uncle Makwakwa mercilessly squeezing sin out of the tender loins of one of Nasiloli's waitresses – yes, the tall one with a big chest.
Seemingly, in their stupidity, or lack of it, they had stripped completely naked like characters from one of those badly shot Venezuelan adult movies.
Frankly speaking, I wasn't bothered by the fact that uncle Makwakwa was lucky to butter the bread of this tall village damsel. What, however, I was apprehensive about was the fact that he hadn't bothered to use those scabbards that arguably prevent little rascals from being conceived and keep away diseases.
It's the morning of the New Year, today. I'm meant to stay in the village for one more day. I have less than 24 hours to take a selfie with Nafula. But from the way villagers are already trooping into our compound, this is going to be a long day.
Well, Happy New Year to all my peeps and welcome to my new website as we all work together to try and understand a world gone crazy!